Since the beginning of documenting my artist journey I've been really open about my process.
One of the biggest pain points for me has been prioritizing the quality of my art while being a pioneer in web3.
Today, I'm excited to announce Criteria - an 8-track project with Reo Cragun.
We're proud to debut Criteria through our largest mint to date, dropping next Friday - December 16th.
The Criteria collection features 2500 editions with activations across Sound, Bonfire, OnCyber, Spinamp and Arpeggi.
Here's what you need to know.
What is Criteria?
Criteria is a debut project between Reo Cragun and me.
It's a fusion of electronic music and hip-hop, bringing together the best of both worlds.
It's rightfully named Criteria as it's truly meant to be the project that puts web3 music on the map.
I'm a firm believer that this sound will be a core driver for the next era of music.
At a lot of our favorite shows you typically have two types of performances:
Electronic - Full LED wall like going to an IMAX movie (think ODESZA)

Hip-hop - Crazy stage presence and focus on the rapper (think Drake)
But what happens when you combine those two worlds?
Criteria is meant to showcase that reality.
Everything is being treated as an equal 50/50 split.
While web3 will hear it first (as always) we have big ambitions with how the project will perform on streaming platforms like Spotify, and an even bigger plan for a national tour coming to a campus near you.
Teaming up with Reo
I'm bringing a lot of my artistic endeavors to life by partnering with a fellow pioneer in Reo.
As the CEO of LNRZ and a leading artist on Sound - Reo is an incredibly accomplished artist having been signed to major labels like Virgin Records and collaborating with legends like Flume.
Reo and I met around the time I made Overstimulated. I noticed Reo had an NFT as his profile pic and was getting involved in web3. I had been a fan of his music since his collaborative EP with Flume and decided to shoot my shot.
We instantly connected over some of our shared musical taste but I was a bit tentative sending songs. I wanted to work in person and make sure that we made something that felt super custom to both of us.
Since then, we've both gone on to have major moments in our careers - largely due to our collective success in web3.
Together, we're responsible for:
50 ETH in primary and 180 ETH in secondary on Sound.
59 ETH worth of 1/1s on Catalog.
70 ETH in primary sales and 51 ETH in secondary sales for my Glass House collection.
After I minted out 1000 editions for my last EP Glass House, Reo quickly turned heads by minting out 333 editions for his last EP - Frameworks.
We've since collaborated on a LNRZ drop, and recently teased the Criteria release with a free mint on Sound.
Web3 Composability
One of the big goals of this project is to show what a pure web3 rollout can feel like.
When you release music traditionally, the timeline is typically linear and repeatable:
Make the music

Brainstorm the creative direction and artwork

Create visual assets for branding and marketing

Tour if you are fortunate enough to have this infrastructure
On the web3 side to date, the rollout has largely involved dropping a song on Sound, maybe doing a Mirror post (like this one) and a Tweet storm.
As the emergence of artists in web3 becomes more prevalent, so does the need for a more proper rollout.
With so many great platforms out there, we wanted to make this as much of a collaborative project with them as it is between the two of us.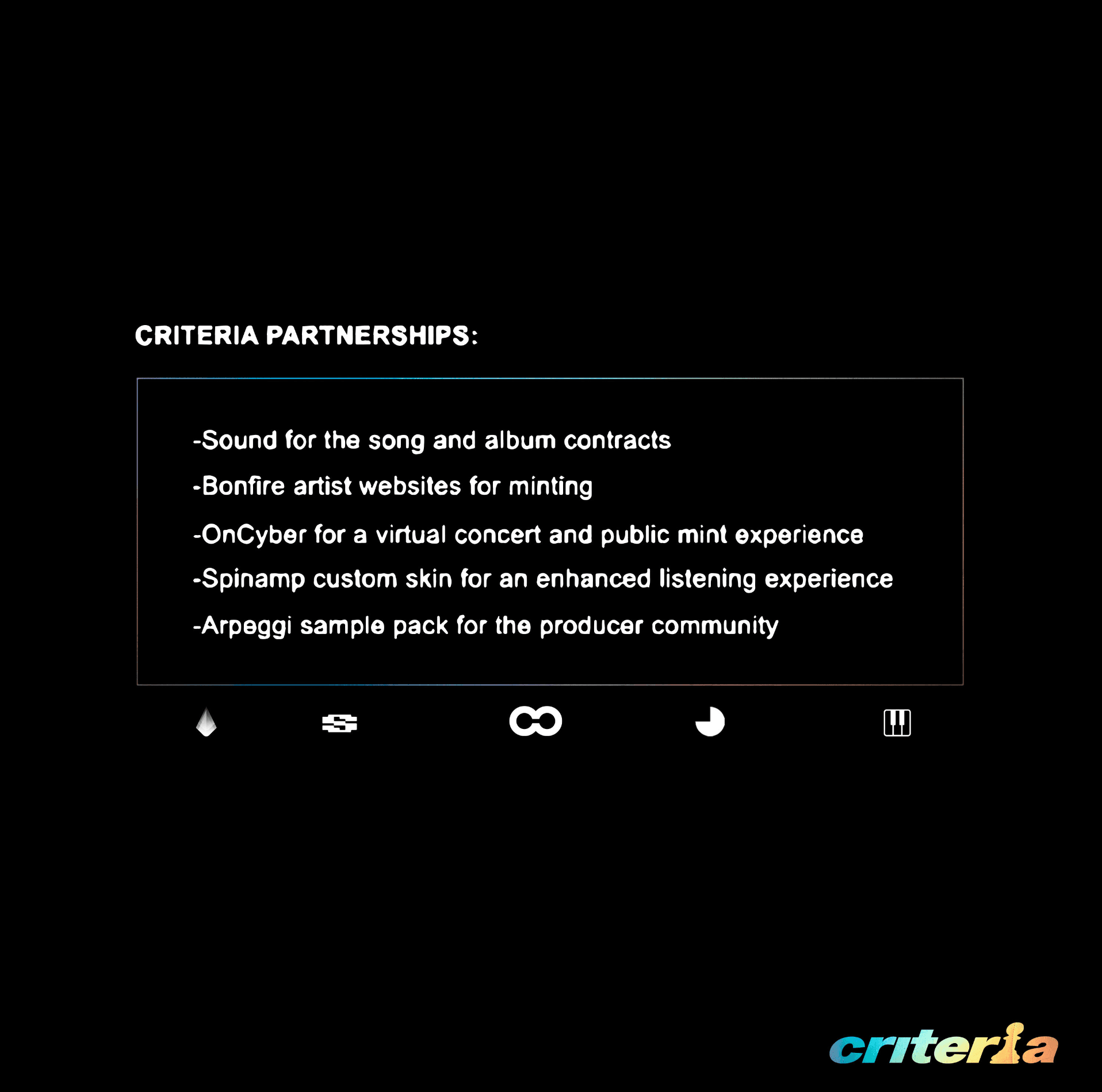 Over the course of the next week, we'll be breaking down each of these partnerships in detail to highlight the importance they play in the wider Criteria narrative.
Criteria Mint Details
2500 editions is no joke.
It's by far our biggest collection and we're going to be rolling out all the stops to give it the spotlight it deserves.
The Criteria mint will be broken down as follows:
Phase One: OP
Available to collectors with 10 or more Daniel Allan and Reo Cragun NFTs.
This phase rewards top collectors by giving them the chance to collect in advance of the presale.
The mint price is 0.04 ETH per edition, with a max of 75 editions per wallet.
Shoutout to Bello for aggregating this data for us!
Phase Two: Presale
Available to all Daniel Allan & Reo Cragun holders.
This includes collectors across Catalog, Sound, Glass House and Frameworks.
The mint price is 0.04 ETH per edition, with a max of 50 editions per wallet.
Presale begins on Thursday, December 15th at 2PM PST.
Phase Three: Public Sale
Available to the general public.
The mint price is 0.05 ETH per edition, with a max of 75 editions per wallet.
Public Sale begins on Friday, December 16th at 2PM PST and will remain open for one week.
Any unsold editions will be minted directly to a Criteria Treasury.
Collection Rarity
Criteria consists of 8 tracks.
In order to encourage secondary market activity, we decided to give each song a unique edition count.
The collection will also feature 8 Golden Eggs - one for each track on the project.
Here is the breakdown of the Criteria rarity: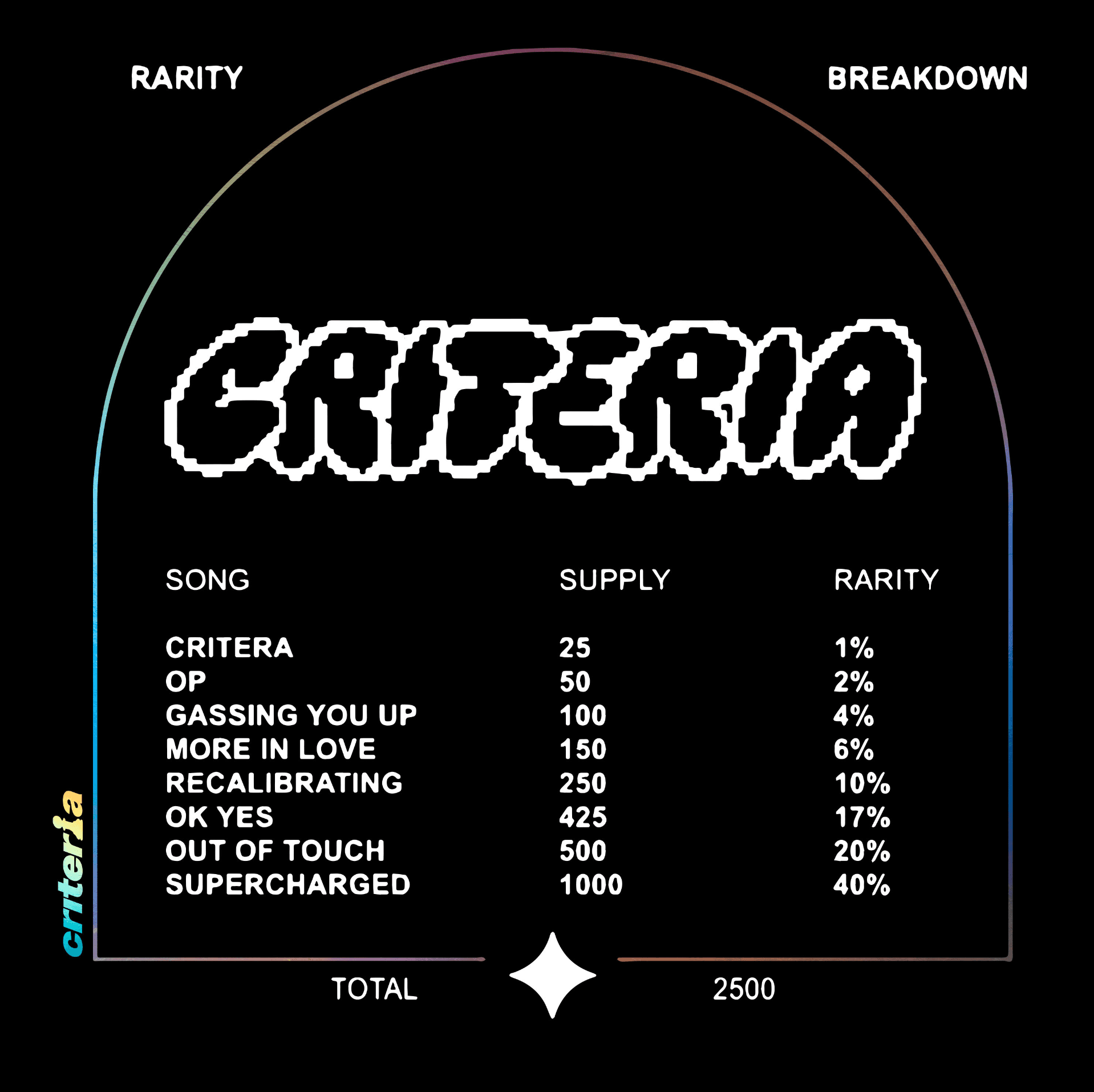 We believe "Criteria" is the sleeper pick on the project. It's the title track and rightfully the rarest in the collection.
Given that Supercharged has the most editions, it's likely the track that will be played the most. It's also the first single hitting DSPs like Spotify.
Whoever stumbles across the collection will likely listen to Supercharged first - setting the tone for the project at large.
Get Involved
Over the course of the next week we'll be rolling out a number of different campaigns and threads.
Mark your calendar for December 16th - and get ready for fireworks.
To stay up with the latest, join the Criteria collector chat here.
Welcome to Criteria.