It's been a wild ride.
Since minting my first Music NFT in April of 2021 - I've been fortunate enough to travel the world making beats with my friends.
I'm not one to boast accolades, but in the past year and a half we've:
Grossed 228 ETH in primary sales and 105 ETH in secondary sales

Played shows at the Brooklyn Mirage and Marquee

Collabed with artists like Reo Cragun and Slenderbodies

Been featured in TIME and Billboard

Signed with CAA
Now - we're ready to take the Daniel Allan project to the next level.
I'm excited to announce that Daniel Allan Entertainment has raised $1M to support the next stage of my career.
The round was led by Coop Records with support from Palm Tree Crew Crypto, Noise DAO, Woodstock DAO and Fire Eyes DAO.
Angels included Adam Kornfield, Ante Hoathe, DegenDavinci, Ash Egan, Nic Carter, George Lambeth, Kyle Samani, Shayon Sengupta, Jacob Horne, Adam Levy and Jason Meinzer.
Here's what to know.
Independence in 2023
Being an independent artist is not easy.
Most of my friends fall into two buckets - those who are looking to sign a record deal and those who are looking to get out of one.
The reality is - labels are the major financing arm for most artists today.
But what if that didn't need to be the case?
What if artists could structure their projects as startups and build in public with the support of investors, collectors and fans?
Web3 has unlocked a new set of tools for independent artists such as myself.
I've been fortunate to release on dozens of independent labels and work with some of the best distribution companies in the game.
As I look to explore my next chapter, we want to do things a little differently.
I'm excited to work with a major label.
But the reality is these relationships take time, and I'm taking control of my career and the opportunities in front of me.
This funding round allows me to hire a full-time team, and focus on developing and breaking records in new and creative ways.
Introducing Daniel Allan Entertainment
Daniel Allan Entertainment is the holding company for the Daniel Allan project.
It's a C-corp that owns my IP along with all my streaming, touring and web3 income.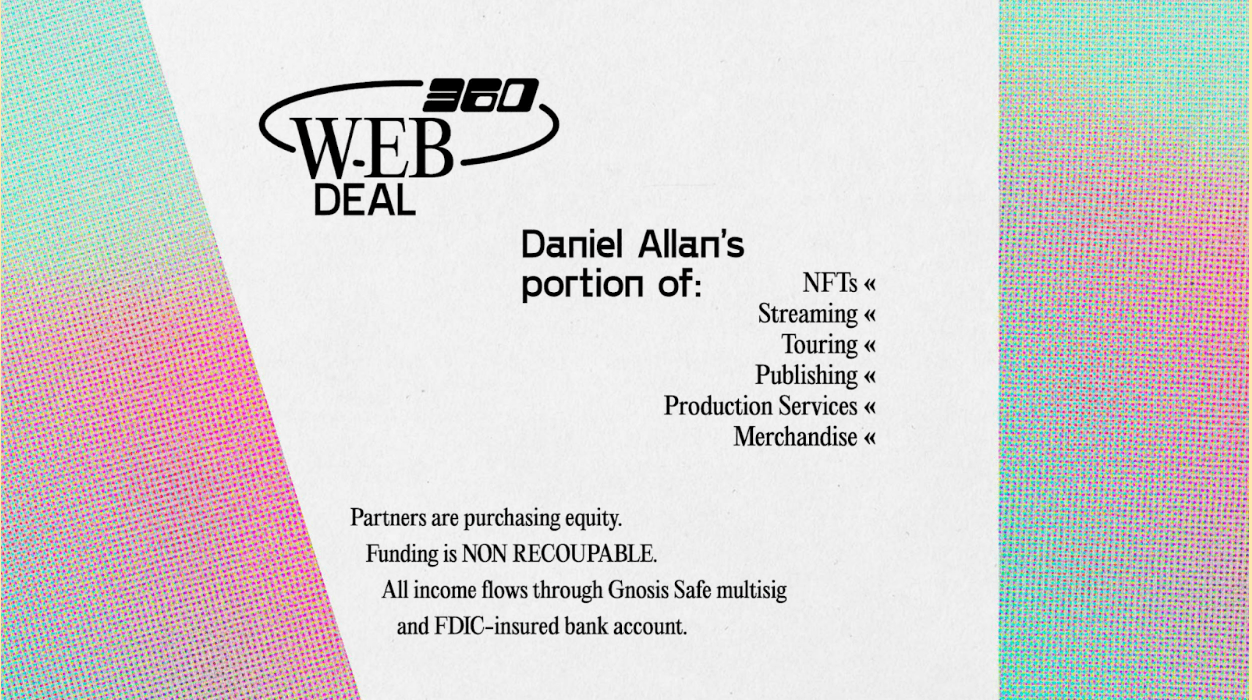 This corporate structure was essential for bringing on outside capital.
Investors are receiving equity in Daniel Allan Entertainment - essentially giving them exposure to all aspects of my career.
The intention is to build a team and an evolving business around Daniel Allan - and it all starts with this raise.
The Next Chapter
I've been very vocal about my desire to have a hit record.
I want to play major festivals and build a fanbase that's deeply integrated into my future career.
Over the next year - we'll be rolling out a number of new initiatives to expand the Daniel Allan ecosystem.
With the blueprint we've started in web3, we're optimistic that we can bring new artists into the space - and help develop and further the growth of those involved today.
To celebrate the raise - I'm proud to be dropping a new single with my brother DLG.
We made "Cage" on a weekend in Ojai.
The track is $5 to collect - the cheapest I've released to date.
My goal this year is to seamlessly align my web2 releases with my web3 collectors.
We have quite a ways to go, but I'm optimistic that this next year will bring those worlds together.
Partner Quotes
This round wouldn't be possible without the support of an amazing and forward thinking group of investors.
Here's what some of them had to say.
"Daniel is pioneering what it means to be an artist in web3. As someone who's been lucky to support him since day one, Coop Records is excited to double down on what we believe will be a breakout case study for years to come" - Cooper Turley, Coop Records.
"I went from being one of the first to buy Daniel Allan's Music NFTs, to working on his innovative projects for the past couple of years, and now backing the future of his company. Music NFTs have an incredible ability to create opportunities for new types of relationships to form between artists and their audiences. He's been a Music NFT leader and we're excited to continue on this journey with Daniel to push this space forward." - Brett Shear, Palm Tree Crew
"We've been collectors of Daniel's work since the inception of Noise DAO. He is pioneering a new standard for independent artists and we're big believes in an on-chain native future. We're excited to take this relationship further by supporting from the DAO along with supporting personally as an angel." - Adam D'Augelli, Noise DAO
Get Involved
To stay up to date, follow me on Twitter or join the collector chat on Telegram.
We've got a lot planned for the months to come - so don't blink.
Thank you to everyone that has supported me in my journey thus far and I look forward to elevating this sector and the future of independent artists as a whole.
-Daniel